Autumn Moonlit Festa - Event Preview
>2021-09-11 22:00:00
The Mid-Autumn Festival is coming! Something magical happened... A lot of Bunnies appeared in the palace! The Emperor saw this scene and guessed they came from the moon to celebrate this festival. So on a whim, the Emperor is going to hold a mid-autumn feeding event for those bunnies. And the Supreme Pet Box and other rich rewards are prepared for all of you! Meixin was specially instructed to inform you of this news~ Let's have a preview of this Autumn Moonlit Festa event!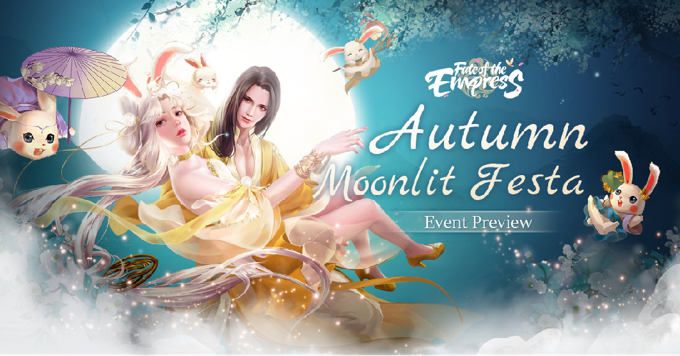 Team with Friend
The Mid-Autumn Festival is a holiday to reunite with family and friends. Who are you going to spend this important festival with? For this event, you will need to find a friend to team up with to complete the quests and get rewards! You can create your own team and name it on the event page. Then, send the team code to your friend to form a team. Of course, you can also choose to join a team on the event page and enter the team code from your friend to complete the team!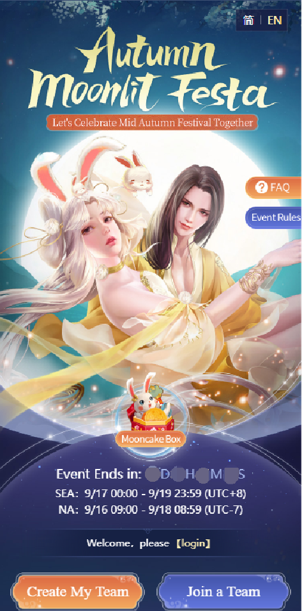 Now you can join our Discord and find your teammate: https://discord.com/invite/YdnE82gCf2
Notice: A character can only join one team. And you cannot withdraw or change teammates after forming a completed team. If you have not successfully invited a teammate after creating a team, you can choose to join someone else's team as well!
(Check the event page for more details)
Lunar Quests
Mooncake is an essential element of the Mid-Autumn Festival, and the Emperor has prepared mooncakes of various sizes for bunnies! You need to complete quests to achieve the corresponding mooncakes and feed your bunny to unlock the rewards~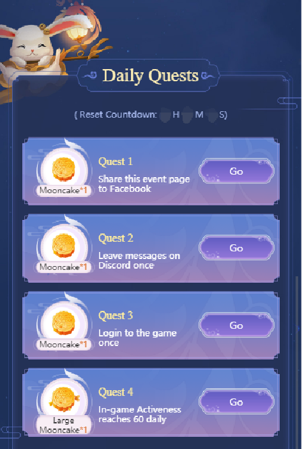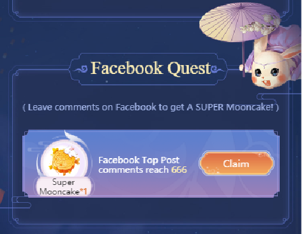 Feed Your Bunny
These cute bunnies are waiting! You need to feed your bunny with mooncakes obtained from the Lunar Quests, then unlock milestone rewards such as Lv. 5 Rare Gem Pack and Supreme Pet Box. The different sizes of Mooncakes would add different points to the milestone progress: +1 for Mooncake, +2 for Large Mooncake, and +3 for SUPER Mooncake. In addition to the milestone rewards shared by team members, you can also receive random rewards such as Summon Nectar and Character Shard for the first daily feeding!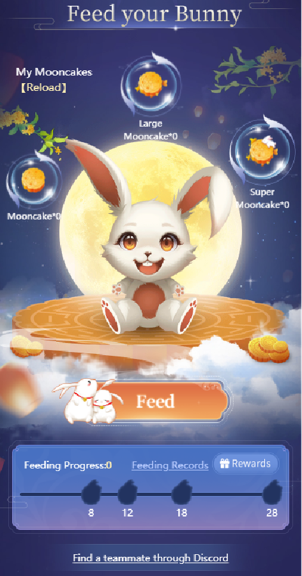 As the feeding milestone progressing, the bunny will also undergo some magical changes in its appearance! Remember to pay attention to watch~ Oh! Don't forget to collect the Mooncake Box that Meixin prepared for you on the event page. If you are lucky enough, there is a SUPER Mooncake inside! (One Chance Only)

That's all about this preview~ Meixin would like to wish you all a happy Mid-Autumn in advance! For more information about this event, please stay tuned to our Discord and Facebook page! See you.