Summer Carnival Night - Win Costumes and Supreme Pet Box
>2021-06-22 21:30:00
It's summer again! What's your memory about summertime? Meixin always looks forward to the festive and fun night carnival after the sunsets every summer. This summer, our emperor will hold a Summer Carnival for you in the capital, and also prepared the Costume and Supreme Pet Box as the rewards in the event! Come and get an introduction about the event~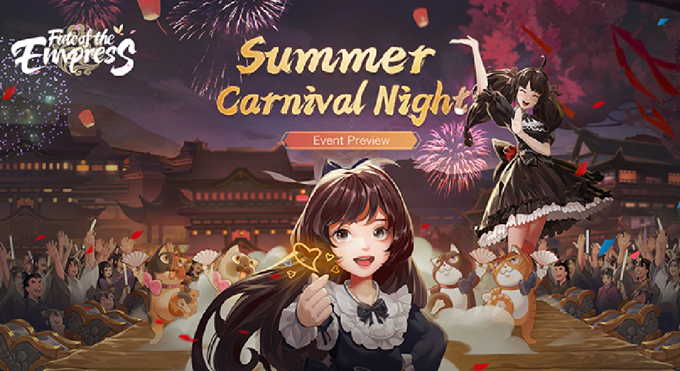 [Event Time]
Players can log in to the event page on 2021/06/24 for early account login and character binding; the event will be officially opened on 2021/06/25; Please keep following the official Facebook page for details.
[Event Terms]
1. You'll need to bind your character to join this event. Each account is allowed to bind ONE character ONLY, and the character should reach at least Lv.50. Once bound successfully, the character cannot be changed.
2. Event Duration: 06/25 00:00 - 06/29 23:59 (UTC+8). You are able to exchange items or claim rewards on this event page until 07/02 23:59 (UTC+8).
3. The Daily Quests will reset every day at 00:00 (UTC+8).
4. All rewards will be sent to your in-game mailbox. Notice: There might be a 15 minutes delay, therefore, after claiming the rewards on this web page, please be patient and check your mailbox later.
5. If you have any questions, please feel free to contact our Customer Service Team in-game or by email. We'd love to help!
6. Fate of the Empress reserves the right of final interpretation of the event rules.
(Check our official site for more details)
Carnival Quests
You'll need Tickets to participate in the games or exchange items in Weijing's shop. Obtain Tickets by completing quests, inviting friends, or joining events on official Facebook/Discord. Go complete the quests and join the Carnival!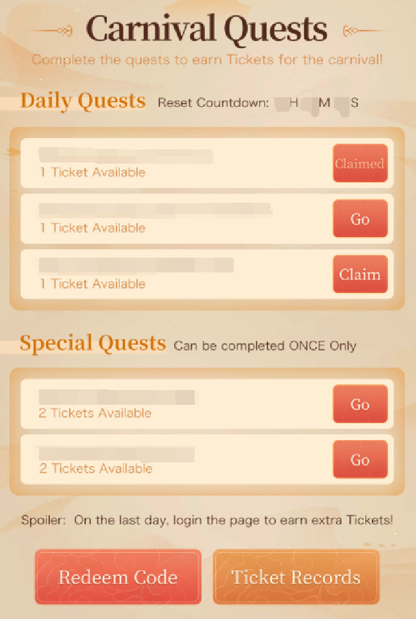 (Check the official event page for more details)
Collect Amulets, Win FREE Costume
Let's see what we have at the Carnival~ Ake prepares 10 balloons with 5 different kinds of amulets in them. You'll need 2 tickets to hit one balloon. Hit the balloon to obtain the amulet in it. When you successfully collected all 5 kinds of amulets, you'll obtain the special gift from Ake for free. According to Meixin's gossip, the special gift will be the Galaxy Melody Costume!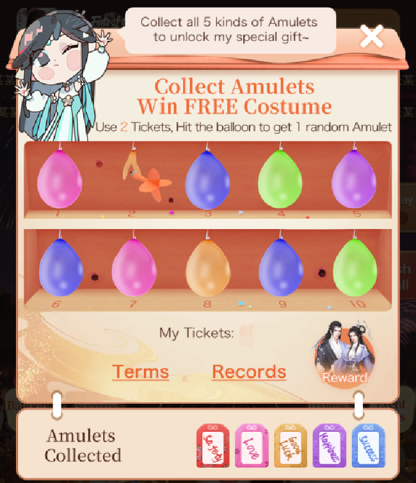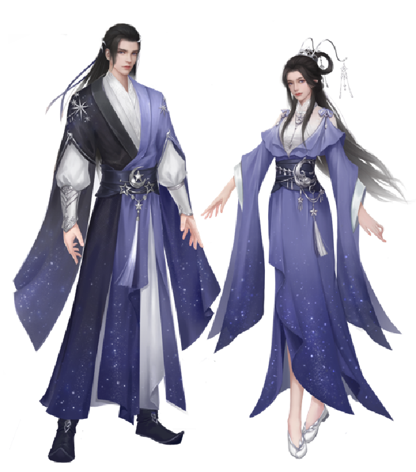 (Check the official event page for more details)
Supreme Pet Lottery
No one can resist the nervousness and excitement that comes with the lottery draw. You'll need 5 Tickets to participate in this lottery game. And you only have one chance to decide your lucky number from 1-5! The winning number will be available at 10:00 (UTC+8) on 06/30. Prizes will be awarded based on how many numbers are matched the winning number and the order of the 3 numbers. If you have 3 numbers match in the exact order, you will obtain the Supreme Pet Box! Now you can start to think about your lucky number~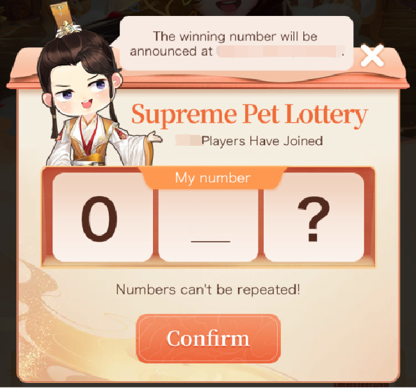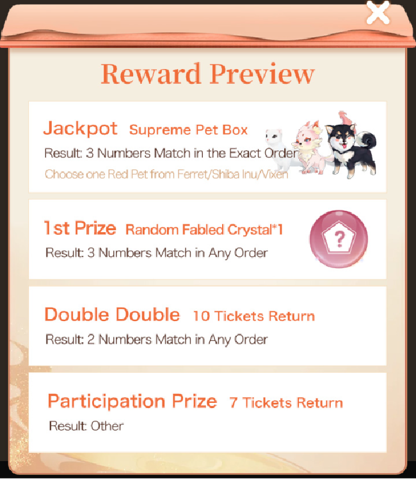 (Check the official event page for more details)
Summer Invitation
Wouldn't you feel a bit lonely to join the Carnival alone? Don't be shy! Go and invite your friends to join together~ You can find your unique invitation link on the event page. Copy and share the link with your friends. Once someone enters the event page via your link and binds his/her account successfully, it will be counted as one "qualified invitation" of yours. The inviter can earn 2 tickets for each qualified invitation. Each player can invite up to 5 friends and earn a maximum of 10 tickets. Notice that the invitee can accept only ONE invitation! Remember to make an appointment with your friend!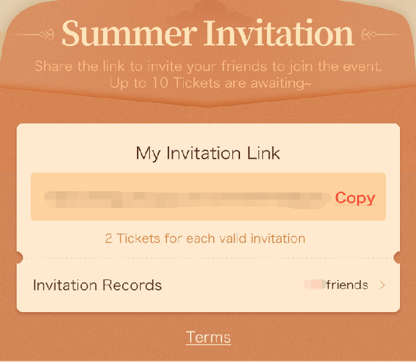 (Check the official event page for more details)
During the event, please pay more attention to our official Facebook page and Discord community. A large number of Ticket Redeem codes will be distributed on Facebook and Discord randomly through events! Your extra Tickets can be used to redeem for Character Shards, Gem Pack, and other in-game items at Weijing's Shop on the event page.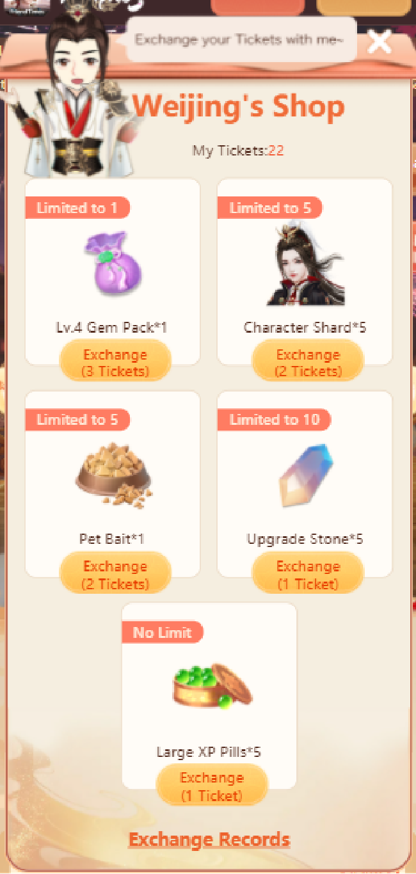 The above is a brief introduction about this Summer Carnival Night~ For more information about this event, please stay tuned to our official website and Facebook page. See you at the Carnival!