04/28/2022 Maintenance Announcement
>2022-04-26 18:36:12
Dear Ladies and Lords,
To provide you with a better gaming experience, all servers of Fate of the Empress will be under maintenance on 04/28/2022 (UTC+8). You will not be able to login to the game during the maintenance. The estimated maintenance duration is about 8 hours. And maintenance time may be adjusted according to the actual situation.
Update rewards will be sent by mail after the maintenance.
The final competition of Cross-server Guild War in SEA and EU servers will be held on the day of maintenance. Please arrange your team and select inspiration before the maintenance. The final of SEA servers will be held automatically during the maintenance.
Players of SEA Servers may not be able to participate in Trivia Quiz (18:30) , Team Competition and Guild Bonfire on 04/28/2022 due to the maintenance.
Players of EU Servers may not be able to participate in Trivia Quiz (12:00) and Wondrous Talents (12:30) on 04/28/2022 due to the maintenance.
Corresponding compensation rewards will be sent to players of those servers after the maintenance.
Moreover, please pay attention to the time of your Banquets and pre-arrange them in case of any unnecessary losses.
This is a compulsory update. Your highness will have to download the latest game version (2.1.3) at App Store or Google Play before entering the game.
【Maintenance Duration】
SEA Servers: 04/28 14:00 - 22:00 (UTC+8)
NA Servers: 04/27 23:00 - 04/28 07:00 (UTC-7)
EU Servers: 04/28 08:00 - 16:00 (UTC+2)
【Servers】
All servers
【Updates】
1. New gameplay for Mansion
- New Mansion
Players whose official rank has reached official 4 or above can learn about and unlock the new mansion at the NPC in the old mansion after the update. You can go back to the old mansion through the button "Old Mansion"after you unlock the new mansion. The new mansion is divided into two parts-"Inside" and "Outside". The mansion/Inside/Outside can be upgraded at "Overview". The highest level of Inside/Outside can be extended if the mansion level is upgraded. "Overview"also offers permission settings and the basic information of your mansion, including prosperity and level etc. Married couples share the same new mansion.
- Furniture
You can decorate the new mansion at certain areas with your furniture and your lovers at "Layout". Some furniture can only be placed at the interior, while others can only be placed at the exterior. Your highness can craft furniture with materials or buy furniture with ingots or obtain furniture from other events. You may obtain furniture materials at different gameplays in game. Some furniture can be craft after they are unlocked. You can unlock these furniture by copying furniture designs at different buildings in game.
Archive: Collect furniture and activate furniture archives to gain extra attributes.
- Blessing Tree
Blessing Tree will unlock if your mansion level reaches Lv3. You can purchase the blessing tree at shop and plant it at the designated area in your mansion. The blessing tree will grow up in 2 hours and corresponding rewards can be claimed then. There's a chance to obtain furniture and designs. You can invite friends from guild, from the same server or from other servers to bless the tree. Bless boosts the growth of the tree. The tree will disappear after 30-minute rewards time. The next tree can be planted after the cool down.
More gameplays will be there waiting for you after the update!
2. New GR Hero: Mi Yue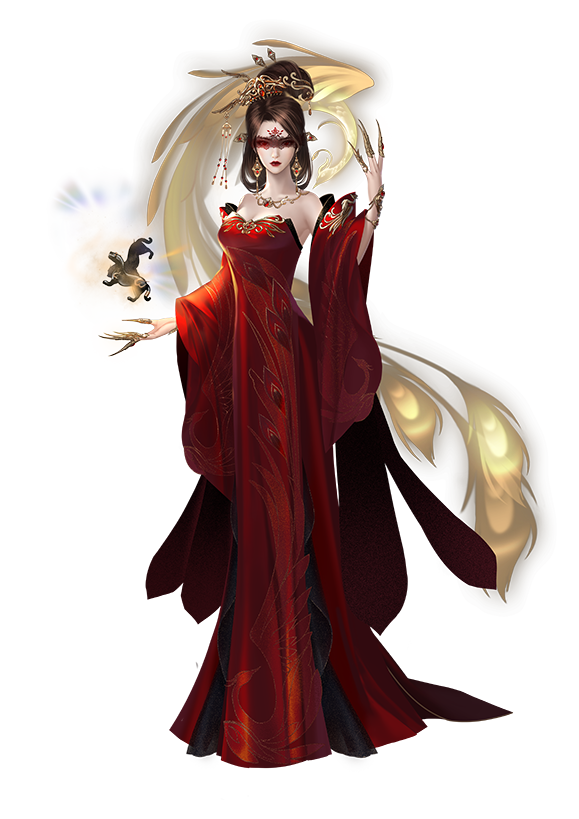 Powerful GR Doctor hero-Mi Yue is coming!
Active Skill: Phoenix Song (Lv1)
Deal DMG of 60% ATK to 3 enemies. 40%*(1+ACC) chance to stun the targets for 1 round.
Rage Skill: Rising Phoenix (Lv1)
Dispel 3 buffs of each enemy and deal DMG of 70% ATK to the targets, 30%(1+ACC) chance to confine up to 3 targets (unable to act or obtain healing or buffs) for 2 rounds.
Passive Skill: Phoenix Dance (Lv0)
50% chance to lower 20 Rage of the attacker when attacked. (Max 3 triggers for each round.)
3. New Relic: Idyllic Painting
l Attributes(Lv0):
Team ATK: 333
Team DEF: 334
Team HP: 5134 (unlock at 2-star and Lv40)
l Feng Shui Effect (1-star):
For every outfit collected and activated, increase ATK for the whole team by 10 points. Max 20000 Team ATK can be added.
l Increase level and star level to increase attributes added. Sublime is not available for the relic.
l Obtain from events.
4. New Ride: Lotus Boat, Camel
(1) Lotus Boat
l Attributes:
Team DEF: 170
Team HP: 2450
l It costs 100 Spirit Tokens to exchange for the ride at ride function.
(2) Camel
l Attributes:
Team ATK: 85
Team HP: 1250
l Obtain from events.
5. New Costume: Ivory Opal, Cloud Deer, Mythical Tune, Snowy Schappe
New Heir Costume: Ironborn
Various new costumes for character and heir are coming! Participate in the events and get your preferred ones!
6. Others:
(1) Quick fuse function for quartz.
(2) Guild leader and deputy leader can set access authority of Guild War team.
(3) Daily purchase limit has been added to some course items of Heir Shop. Max 50 items can be purchased every day.
(4) The rules of supreme rank promoting has been optimized. Only players who have been to Official 1 and are now Official 1 and Deputy 1 can sign up for supreme rank test. Up to 25 players can sign up for the same supreme rank test.
(5) More rewards has been added to heir admission achievements. Players who have completed these achievements will receive the added rewards from mail.
(6) Bulk purchase function at Hero Shop will unlock when characters who reach Lv 100 or above.
(7) More dresses to dye: Merry Laughter, Royal Gaze, Wisteria, Dream Grace.
(8) Other optimizations.
【Tips】
1. There will be a 5-minute maintenance countdown before the maintenance starts, during which you can not do anything in the game. As soon as the maintenance starts, you will not be able to log in the game. Please arrange your time in advance.
2. Please take note of your account, password as well as your server name before the maintenance.
3. Please pay attention to the time of your Banquets and prearrange them in case of any unnecessary losses.
4. Thanks for your understanding and support. Please do not hesitate to contact us as following if you have any problems.
Customer Service Email: fswqg_service@friendtimes.net
【Compulsory Version update】
1. The updated content of this version is only included in the new client version 2.1.3. You will not be able to enter the game with a lower version. Please complete the client update as soon as possible during the maintenance.
2. Please follow the compulsory update notice to download the new game version 2.1.3 at App Store or Google Play.
3. The display time of the latest version in App Store or Google Play differs in different countries/regions.
================================
【App Store】
https://apps.apple.com/app/id1445182889
【Google Play】
https://play.google.com/store/apps/details?id=com.GF.palacem5uscn.hwyad.google